June 25,2021
Novelty (related to prior arts)
(Conclusion) Novelty should not be found. (Applicant lost.)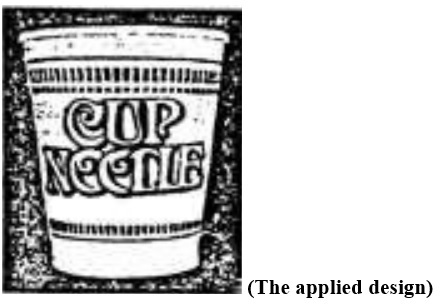 As the characters "CUP NOODLE" on the surface of a container is not deemed a "pattern" in this case, these characters do not generate Novelty.
There is room for interpretation that the characters lost their original function as a means of communication and as a result became a pattern.
However, in this case, the characters "CUP" and "NOODLE" are arranged in an ordinary way, and as a result, the characters can be understood as a product name meaning noodle(s) put into a cup.
 <Writer: Hideki Takaishi (Attorney-at-law licensed in Japan and California)>
https://www.ip.courts.go.jp/app/files/hanrei_en/813/001813.pdf