February 25,2022
Similarity of design (Infringement case)
(Conclusion) Defendant's design is not Similar to the registered design. (Design right owner lost.)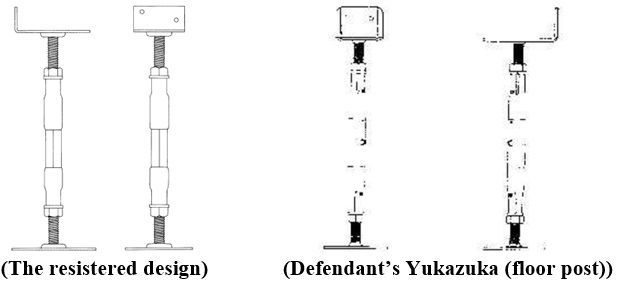 The essential parts of the design should be identified by observing the design as a whole and taking into account the nature, use, etc. of the article to which the design relates.
Although some of the main parts of the resistered design and the design of Defendant's Yukazuka have common features, the difference as a whole exceeds the common features, and the design of the defendant's products have different aesthetics from the resistered design.
The resistered design is distinguished by the narrow angular shape of the intermediate portion in contrast to the rounded shape of the upper and lower cylindrical portions, and the sharp and smart impression resulting from such a shape is strongly felt by the viewer in the aesthetic feeling received from the whole.
The design of Defendant's Yukazuka, including the middle part, as a whole gives the nurse a rounded soft impression.
<Writer: Hideki Takaishi (Attorney-at-law licensed in Japan and California)>
https://www.ip.courts.go.jp/app/files/hanrei_en/234/000234.pdf