June 25,2021
Easiness to create the design
(Conclusion) The applied design was easy to create based on prior arts. (Design right owner lost.)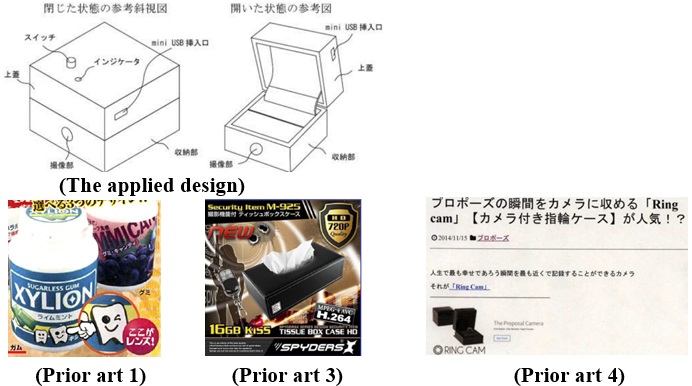 The applied design has a usage and function as an accessory case, and also has a usage and function as a concealed camera of photographing and recording so as not to be understood by the counterpart.
A person skilled in the art relating to the applied design is a person who has both ordinary knowledge in the field of accessory cases and hidden cameras.
In the Prior art 1, an imaging unit is provided on the upper lid portion so as to be suitable for the custom of the U.S.A. in which an accessory case is opened to show a ring and a proposal is made in a knee-stuck state.
Thus, there is a motivation to change the position of the imaging unit to be suitable for use with accessory cases in a different manner.
Accordingly, it was easily created by a person skilled in the art to change the imaging unit of Prior art 1 from the upper lid to the storage unit with reference to Prior art 3 and Prior art 4 in which the imaging unit was installed in the storage unit.
<Writer: Hideki Takaishi (Attorney-at-law licensed in Japan and California)>
https://www.ip.courts.go.jp/app/files/hanrei_en/285/002285.pdf